Botswana
Botswana
Experience the
highlights

of this wild and spectacular destination.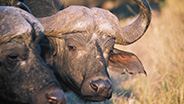 Okavango Delta - Visit the Worlds largest inland Delta situated in an arid region therefore attracting large concentrations of diverse animals and birds. This area is what it is because of the Okavango River flowing into the Kalahari Desert creating an amazing spread of waterways that make up the delta. Some of the most incredible lodges and experiences await for you in this part of the world.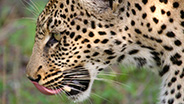 The Linyanti Wildlife Reserve - A private reserve on the edge of the Chobe National Park's Western boundary where the massive reserve spreads an area of 308 000 acres. This region is home to one of the largest densities of Elephant in Botswana as well as other wildlife. This gives you the opportunity to witness some amazing wildlife viewing as well as a variety of vegetation and scenery.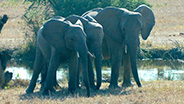 The Kalahari- This vast expanse of beautiful dry land covers over 70% of Botswana and is derived from the word "Kgalagadi" meaning "the great thirst." There is no permanent surface water and this causes interesting ecological challenges for wildlife and vegetation. Home to the San Bushmen who have inhabited the area for many hundreds of years this is where you can experience a truly unique safari experience in an area known as the Makgadikgadi Pans, where ultimate luxury awaits.
Breathtaking
activities

to enjoy during your adventure in Botswana

Game Drives

Game Walks

Water Safaris

Photographic Safaris

Bird Watching
View
Suggested Trips

from one of our custom tours through Botswana
Adventure Trails & Thrills
The River Club is a charming oasis on the Zambezi River, situated 18 kilometres upstream from the renowned Victoria Falls in Livingstone, Zambia - a World Heritage Site and one of the 7 Natural Wonders of the World. All 11 suites overlook the river and pods of hippo into the Zambezi National Park. A host of activities await young and old, on property as well as around the Falls. The River Club is a fantastic destination for families with children 6 and up, providing spacious family accommodation and extensive gardens to explore. The lodge's main area is a well-appointed Edwardian house with lounge, dining room, library, shop and veranda on which breakfasts and teas are taken. Midday meals are often served on manicured lawns, complete with a croquet court. The gazebo and the Summer House (with snooker room) are both alternatives for private dining. The pool seems part of the river itself, a secluded deck provides respite and beauty treatments are available in the Wellness Centre. For the energetic the gymnasium, running track on the secure property and all-weather tennis court are perfect. Eleven luxury en-suite chalets (including 1 family and three suites), with floor to ceiling sliding glass doors, are renowned for their spectacular views and romantic ambience. Each room looks west into the glorious African sunset, best viewed from the privacy of the ball-and-claw bath. Activities (on an inclusive rate) include a Victoria Falls Tour on the Zambian side, sundowner cruises, tiger fishing, and visiting a nearby village. Others (extra cost) include white water rafting, bungee jumping, abseiling, canoeing, and flights over the Falls. The area is steeped in local history and rich in wildlife; hippo and elephant are seen regularly and birdlife is prolific.
Best of Southern Africa
Set on Cape Town's historic V&A waterfront this elegant hotel offers 329 fully air-conditioned rooms, all of which feature views of either the ocean or Table Mountain. The rooms have luxurious walk-in cupboards, marble finishes and writing desks and each is equipped with a butler station and an honour bar. Bathrooms have separate showers and baths. Vanities include a personal hairdryer and a full range of internationally acclaimed cosmetics and toiletries. Hotel facilities include an outdoor pool, an exercise room and a day spa. Cosmopolitan, gracious and relaxed, The Table Bay Hotel is the sum of all that is good about Cape Town.